McDavid Springs is located in the highly acclaimed Aledo School District just west of Ft Worth, TX in Parker County. It has wonderful rural living in a family-oriented community with easy access to the DFW area and Weatherford. We have an inventory of beautiful, exclusive 1 – 3 acre lots, heavily wooded with scenic views. Its premier location is directly across from Stuard Elementary.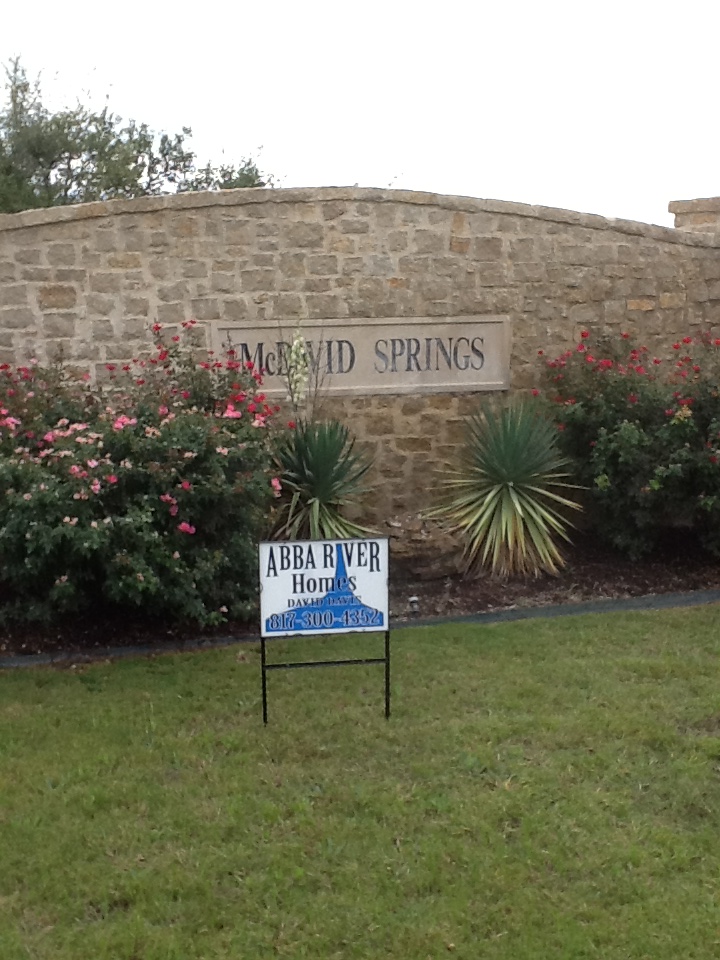 Please call us about one of our beautiful wooded Aledo ISD lots where we can help you build your dream home on.  They are right across from the highly acclaimed Stuard Elementary.
Homes For Sale
On houses under construction you may have the option to choose interior or exterior finishes.
Please contact us for questions: call David Davis at 817-300-4352 or email us at abbariverhomes@yahoo.com.
(Touch lower tile picture to scroll through pictures.  Double tap top picture for zoom view.)
100 Creek Wood Dr (Lot 3, Blk 1)
Under Construction- Fabulous home! 3002 Sq Ft, 4 Bedrooms, 4 Bath, 3 Car Garage on a Heavily Wooded 2.021 Acre Lot. Painted Brick Exterior, Spacious Open Floor Plan with Large Kitchen, Granite Countertops, Wood Floors, Tons of Upgrades, 3 Fireplaces, Game Room, Spacious Master Bedroom & Bath, Tall Ceilings, Beams, Large Patio. Right Across from the Highly Sought After Stuard Elementary. Gorgeous!
174 Creek Wood Drive (Lot 23, Blk 1)
Beautiful home 3685 Sq Ft, 4 Bedrooms, 3 1/2 Baths, 3 Car Garage, 1.2 Acre lot. When you first walk in you will see an incredible 2-Story Great Room ceiling complete with a balcony view. It has a spacious back porch, and a private master bedroom porch. The master bedroom also has a sitting area and a tile decked master tub. The kitchen has beautiful granite countertops and a large granite top kitchen island. Upstairs there are 9' ceilings and hand scraped hard wood floors. Words don't do this home justice so contact us to set up a viewing!
151 Stone Crossing Drive (Lot21, Blk1)
Gorgeous Home - 3131 Sq Ft, 4 Bedrooms, 3 1/2 Baths, 3 Car Garage, 1 1/2 Acre Lot, Oversize Garage Doors, Granite Countertops, Spacious Back Porch, Large Granite Top Kitchen Island, Mud Locker, Master Bedroom with Sitting Area, Utility Sink, Tile Decked Master Tub, Large Dual Entry Master Shower, Hand Scraped Hard Wood Floors.
Lots For Sale – Available For Building
Our Lots for Sale to Build Your Perfect Home On Are:
Block 1: Lot 1,  Lot 2
Block 5: Lot 9
Lot 1, Block 1 – AVAILABLE
3 acre Lot
Lot 2, Block 1 – AVAILABLE
2.2 acre Lot
Lot 3, Block 1 – AVAILABLE
2 acre Lot
Lot 29, Block 1 – SOLD
1.1 acre Lot
Lot 32, Block 1 – SOLD
1.84 acre Lot
Lot 8, Block 5 – SOLD
3.7 acre Lot
Lot 9, Block 5 – AVAILABLE
2.6 acre Lot